Sarafina is a student, stripper, club kid, writer, in her last year at
university. Fringes is the psychedelic coming-of-age tale of her
multiple layers of experience, and what happens when her search for
truth exposes the stories she reveals to no one, not even her closest
friends. It is a journey from fragmentation to unity, a recovery of
innocence, and a quest for the deepest love, love of self.
Has Sexual content. Recommended for Mature readers only. 18+ due to sex scenes, drug use, and sexuality conversations.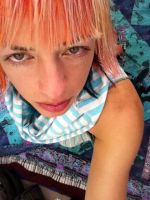 "I write, I hoop dance, I pole dance, I sing, I play piano, I paint
spines, I do sound healing, I travel, I meditate, I do yoga, I eat raw
food, I love." ~ Jennifer Strand
Connect with the Author:
Jennifer has her own unique style of writing. The book is written in 1st person point of view from the character Sarafina. You follow her through the life of a early 20's girl living in LA. You meet her friends and learn about them as well. The writing is nothing I've ever read before and took a little time to get use to. But I am glad I didn't stop reading. It is good to try new things. You get to follow Sarafina as she comes to realize things from her past, her present, her future. Love, hate, disappointment, happiness, and some very philosophical ecstasy trips.
It is an easy book to read and enjoyable. I enjoyed reading the life story style of this book as it added some change from my normal reading list. I hope to see more from Jennifer and her colorful and interesting stories.